My 2011 SLX CRDI 6 Speed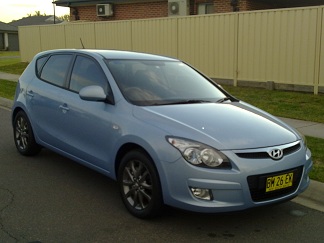 Previous Image | Next Image
Description: This is my i30. Yes, mine. I call him "Mickey" cause through Hyundai Motors, I was a winner in the Test The Best promo that allowed me to take my family to Disney World in Florida USA in April 2012.
"Mickey" is a 2011 SLX 6 speed manual Crdi hatch with tinted windows and towbar. He replaces a 1997 Hyundai Sonata and is so great cause he gets me over 1000 K's per tank of fuel.
---
Picture Stats:
Views: 3409
Filesize: 33.79kB
Height: 243 Width: 324
Posted by: simowizard at December 02, 2012, 02:34:06


0 Members and 1 Guest are viewing this picture.
Comments (1)
Dazzler


Posts:67423




December 07, 2013, 19:44:58

---

I just read about you winning that Trip (nice)

Same colour as the Wife's CW (TrishCW in the Gallery) Love that colour ..

Looks great with the darker wheels and the 6 speed with U2 CRDi motor is another winner!